25 ans de Six Stair avec Rick & Buddy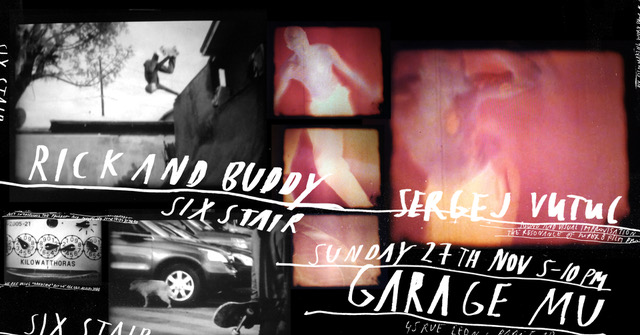 Dimanche 27 novembre 17h – 22h
Garage Mu (45 rue Léon, 75018)
entrée 5€
DJ Dogmilk (17h-18h)
Sergej Vutuc (18h)
projection Six Stair (19h15)
Q&A/discussion
Suite à la première Européenne de son premier long métrage de fiction 'Warm Blood' à La Cinémathèque Française le 20 Novembre (https://www.cinematheque.fr/film/153802.html), nous invitons le cinéaste Rick Charnoski et son complice Coan "Buddy" Nichols à présenter un supercut de leurs films produits au sein de leur boîte de production / bateau pirate Six Stair Films.
Films de skate, portraits de chantres du DIY, collaborations avec musiciens aussi variés que Lightning Bolt et Neil Young, la plupart sur Super 8, ils présentent les 25 dernières années de Six Stair.
Sergej Vutuc, artiste pluridisciplinaire et nomade, ouvrira le bal avec une performance projection + noise.
SIX STAIR
After the underground success of their first film, the super 8mm skateboard classic 'Fruit of the Vine' (1999), Coan "Buddy" Nichols and Rick Charnoski founded the independent production company Six Stair, which operates under the same DIY ethics of the subculture that raised them: skateboarding and punk. Since 1999 Nichols and Charnoski have charted an unorthodox path, making a broad range of films that consistently illuminate deeper truths.
After catching the eye of renowned cinematographer Christopher Doyle for their Super 8mm and 16mm filmmaking, he tapped Charnoski and Nichols to shoot the dream sequences for Gus Van Sant's 'Paranoid Park' (2007). They have since worked with a wide range of respected artists and filmmakers including Cameron Crowe, Richard Serra, Peter Beard, Julian Schnabel and NeckFace and musicians as diverse as Lightning Bolt, Neil Young, Mike Watt and Pearl Jam.
"Create your own scene. Do it yourself. Trespass & break the law. Shoot Kodachrome. No Rules. Don't Die. Ask questions. Smash your phone. Help a friend. Do it wrong. Fail. Cut School. Make mistakes, Call it a look. Listen up. Don't listen. $$$$$$$ is nothing. MAKE MOVIES." - Six Stair
www.sixstairstudio.com
SERGEJ VUTUC
Born 1979 in Doboj, Yugoslavia/Bosnia and Herzegovina, Sergej Vutuc's growth reverberates the noise of some conflicted local history which uprooted him as far as Zagreb (Croatia) and Heilbronn (Germany) in his most formative years. Spontaneously driven towards D.I.Y. ethics and punk culture at large, he went on to explore, build and exchange around the world - skateboarding in particular being the key to many locks - prior to settling in Berlin, then Paris where his most recent enterprise consists in encouraging print and physical productions under the name A La Maison Printing (https://alamaisonprinting.bigcartel.com/)
Robbed of the reassurance of environmental stability and disillusioned with official credibility at an early age, Vutuc's work only thrashes to better question appearances, review stances and restore all the more of its intrinsic value to what we perceive - and miss - as "truth". Documentation and reproduction techniques get flipped on their heads as no discrimination is made amidst what most would consider interferences, or medium abuse; now chaos is given fair leeway, the exploited technology rinsed, new spatial perspectives breed and the marks of time bear no taboo.
https://sergejvutuc.com